About Danes Dyke
Danes Dyke was declared a Local Nature Reserve in 2002 in recognition of its wildlife value and its importance to the local community. Local Nature Reserves aim to protect places of special interest and provide opportunities for research, education and informal enjoyment.

The reserve is part of one of the finest stretches of coastland on the east coast. This unique sea and cliff environment is protected as a Site of Special Scientific Interest and its seabird colonies mark it as a Special Protection Area. The offshore environment has been identified as a Sensitive Marine Area and a Special Area of conservation. In 1979 the area was designated a Heritage Coast due to its rich history and landscape.

Danes Dyke Local Nature Reserve acquires its name from the ancient ditch and bank earthwork, which runs through the reserve. Danes Dyke runs for 4km across the whole of the Flamborough Headland, from the nature reserve here in the south to Cat Nab on the Bempton Cliffs in the north. It consists of two constructed features, a flat-topped bank and a west-facing ditch. The bank was constructed from earth, stacked turfs and chalk rubble, much of which would have come from the ditch. Undoubtedly constructed as a defensive feature, it would have posed a formidable barrier, topped with a wooden palisade fence. Although no exact date has been given to its construction, comparisons with other post Roman earthworks of a similar size have been made. In particular with Aberford Dykes in the West Riding, which has been dated back to the Dark Ages. Today, Danes Dyke is a Scheduled Ancient Monument of national importance.

We hope you will discover what a special place Danes Dyke is by exploring the woodland trails or visiting the seashore.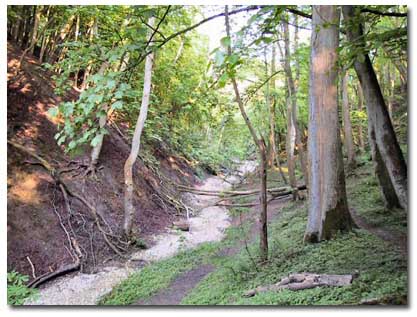 mailto:customerservices@DanesDyke.com Copyright | ©2010 J.Crossland