Walking in the woods is great all year round. Carpets of snowdrops appear early in the year at Danes Dyke. The yellow winter aconites give away more clues of the past; they were a favourite flower planted by the Victorians in the grand landscape around the house. As the year continues, vibrant bluebells appear on the woodland floor and listen out for the familiar call of the cuckoo to really know spring has arrived in the woods. Summer time isn't only for heading to the beach! It's great in the woods too, and the tall trees offer welcome shade. The woodland edges and paths around the fields are good place to spot butterflies.
This area of outstanding natural beauty is excellent for school trips, scout groups and youth groups etc. Minibuses are welcome to park in the car parks though coaches would need to drop and collect people at the entrance road as the access road is unsuitable for large vehicles.
Danes dyke has been used many times for film settings including the channel four film '1066'.

Autumn and winter walks on the reserve can be rewarding too, and is a time to take in the spectacular shades of autumn across the wood after the first frosts arrive. Danes Dyke ravine makes the reserve a wetter place than many of the woods in East Yorkshire, making an exciting place for fungi hunting in autumn. Why not be the one to take the first steps through newly fallen snow: Go on, come back in January and keep up with those New Year Resolutions!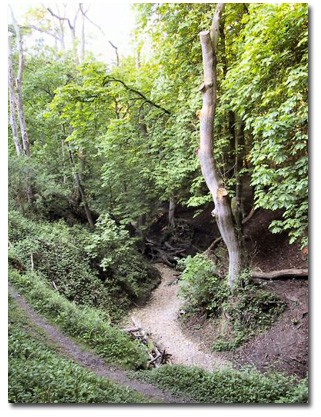 mailto:customerservices@DanesDyke.com Copyright | ©2010 J.Crossland